What is Sovrn?
Sovrn is a sub-affiliate network. Merchant partners can connect with Sovrn through their primary affiliate network and we will be able to automatically onboard them.
What is affiliate marketing on Afterpay (aka Afterpay Ads)?
Afterpay Ads is a new way for you and other advertisers to grow GMV by targeting Afterpay's loyal customer-base using ads, paid placements, and other content-focused opportunities in our mobile app. We've included a visual below, but please download the Afterpay Mobile app to see what our Ads business looks like in practice.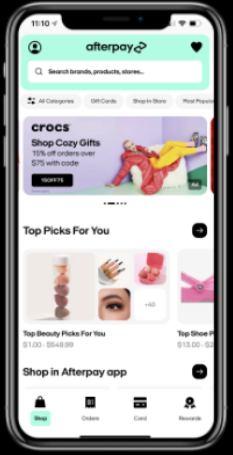 What is the benefit of participating in Afterpay's Affiliate program when I am already paying fees to work with them?
The Afterpay App has evolved from a shopping directory into a data-driven shopping feed that is completely personalized. We recently introduced the Afterpay's affiliate program to enable advertisers to promote brands and products, including highlighting key promotional events and inventory. By participating in our affiliate program, merchants will benefit from increased ranking within this new ecosystem, and will have access to premium placements within our mobile app.
Payment processing fees are separate from marketing investments within Afterpay's app and ecosystem.
What does it cost to partner with Afterpay?
Your commission rate with Sovrn will be applied to your Afterpay partnership. We recommend no less than a 10% commission rate to be competitive within the app. To adjust your rate, please reach out to our Sovrn partners at afterpay@sovrn.com.
What affiliate networks does Afterpay work with?
At this time, Afterpay is running all Afterpay Ads relationships through Sovrn.
I'm already working with Sovrn, what's next?
Check your Sovrn dashboard to see if Afterpay is sending you any referrals. If not, please reach out to afterpay@sovrn.com and ask to be added.
How long will it take to be added to Afterpay's affiliate program?
Once you are joined with Sovrn via your primary affiliate network partner, it will take 1-2 weeks to turn on with Afterpay.
How do I know if Afterpay has successfully ingested my product feed?
Check with Sovrn to confirm your product feed is ingested correctly.

If any updates are required, Sovrn will communicate the request to refresh product feeds directly with Afterpay.
How do I access my affiliate reporting?
All reporting can be accessed via Sovrn. We rely on Sovrn as our neutral third party and central source of truth for all performance reporting.
I'm not yet integrated with Afterpay BNPL but I want to work with Afterpay Ads, can I do this?
If you are interested in partnering with Afterpay exclusively through the Afterpay Ads' affiliate channel, we partner with a limited number of merchants in this capacity through a Single-Use Payment agreement. At this time, we are only accepting a small number of partners. If you are interested in being considered for this opportunity, please fill out our merchant application.